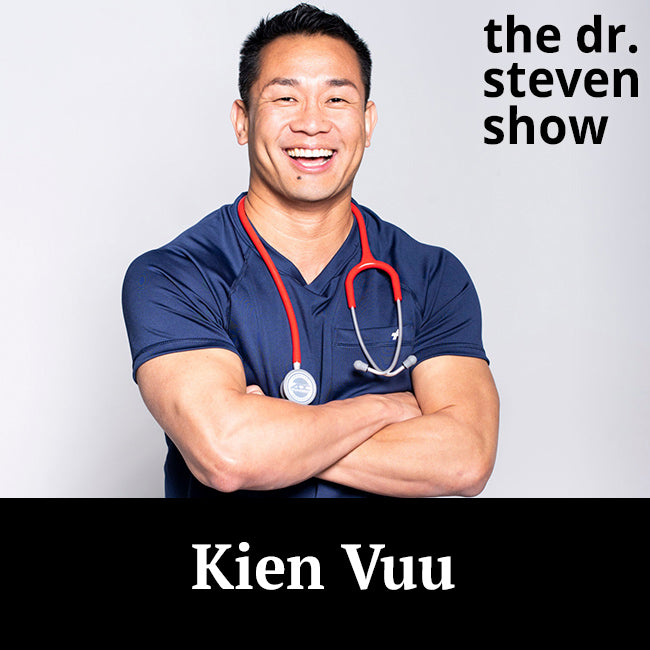 Welcome to today's episode of The Dr. Steven Show! Today we're talking with Kien Vuu, a close friend, anti-aging specialist and interventional radiologist/oncologist, and author of his new book "Thrive State".

Kien shares his story overcoming the many traumas he experienced early in life, and his journey overcoming chronic disease in his own life. He talks about the power in seeing negative experiences as a gift that can push you to make positive changes away from a stress state and into a "thrive state". Kien discusses the importance of understanding your bioenergetic model and how learning to make small changes can create the perpetual motion needed to break unhealthy patterns.
Kien Vuu's approach encompasses mind, body and soul and I am so excited to have him as a guest on the show today.
"Everything, whether it be foods, thoughts, emotion, everything is actually energy that talks to our cells and DNA in a moment-to-moment basis." - Kien Vuu

"Even if somebody is spitting out words that may be hurtful, how do I respond? I can still respond with love. I can still respond with compassion. It's really being that change that we want to see." - Kien Vuu
Show Notes:
How stress and past trauma can lead to chronic disease

How the masks we create for ourselves can obscure our deep feelings of inadequacy, leading to a state of stress

The power in realizing something in your life needs to change and doing the self-work to turn your life around

Why the seven aspects of your bioenergetic model are crucial to a healthy lifestyle and achieving a "thrive state".

Understanding how making small changes can help us overcome stress and negative thoughts/patterns

How to separate yourself from unhealthy patterns in order to change the energy in your body

How Kien used his own experience to create positive change away from chronic disease
"You are your best medicine." - Kien Vuu
Links Mentioned:
Watch Kien's journey:
Get your copy of:
Connect with Kien Vuu: