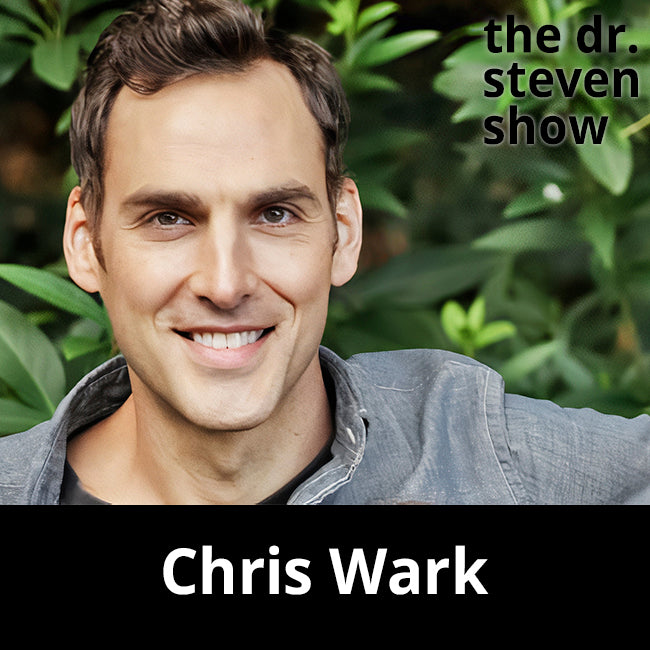 On today's episode of The Dr. Steven Show, we are talking with Chris Wark, a true Inspiration. Chris is a fighter, thriver, survivor, and mentor for those who are on their journey with cancer. He is also an author of many books, including the recently published title Beat Cancer Daily and soon to be released Beat Cancer Kitchen, which are incredibly important resources for the prevention and treatment of cancer.

Chris shares his experience being diagnosed with Colon Cancer at 26, and how he healed through a combination of diet, exercise, stress reduction, and fostering joy. We'll hear some amazing stories about key moments in his life that shifted his mindset away from fear and towards a path that felt true to his own healing process.

Listen in to learn about the unique journey Chris had to beating cancer with naturopathy instead of with chemotherapy.
"It's not just about the diet. It's about exercise. It's about your mindset. Choosing to be positive versus negative. Choosing to forgive people who have hurt you." - Chris Wark

"I really started to think about my life and my health and my future, and what I wanted to do, how I wanted to live my life going forward, and the idea of chemotherapy didn't make sense to me." - Chris Wark
Show Notes:
How being an independently minded young person shaped Chris's path with cancer treatment
The importance of having mentors in your life
Chris's experience being diagnosed with colon cancer
Some of the frustrations Chris experienced with traditional oncology approaches
Why Chris decided against chemo
How reading existing literature about cancer treatment shaped Chris's ideas and approach to fighting cancer
Understanding integrative oncology
How stress and negativity contribute to suppressed immune function
Why laughter, singing and fostering joy are so important to reducing stress
"The number one lever that you can pull to reduce your stress is to become an aggressive forgiver." - Chris Wark
Links Mentioned:
Get a copy of Chris's Books:
Get your copy of:
Connect with Chris:
Twitter | Facebook | Instagram | Chris Beat Cancer