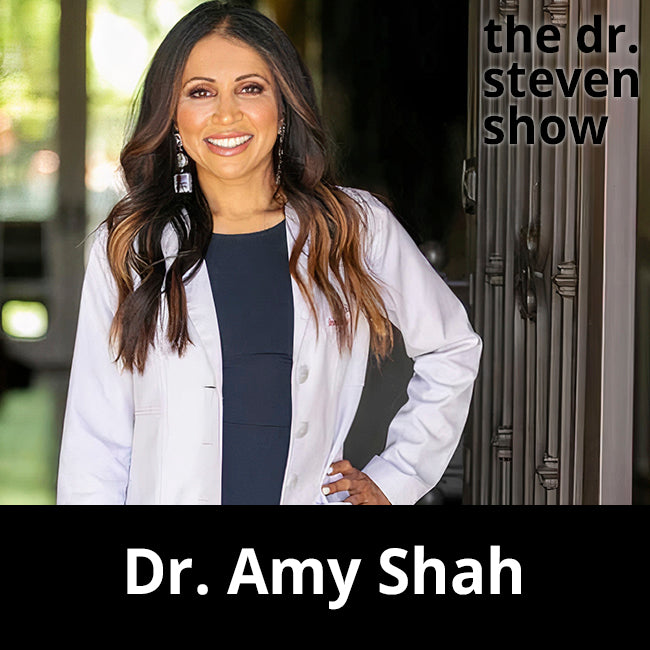 On today's episode, we are talking with Dr. Amy Shah, double board certified Fasting MD, Internal Medicine Doctor, Allergist and Immunologist. Amy is also a wellness expert and author of her recently published book "I'm So Effing Tired: A Proven Plan to Beat Burnout, Boost Your Energy, and Reclaim Your Life" and also writes for Mind Body Green.
Amy shares her personal journey from an overwhelmed and perpetually stressed out state to living the life she wants to be living. She shares, from an honest and vulnerable place, the changes she has made to improve her life through a combination of methods including fasting, diet, exercise and stress relief.
Listen in to learn why Amy believes stress is so detrimental to our health and wellbeing, and practical changes you can make to significantly improve your quality of life.
"Stress, and mental stress, has just the same effect as eating junk food or smoking." — Dr. Amy Shah
"If you knew how important it was, how much it impacts the rest of your body, you would never, ever go a day without doing something to relieve your stress." — Dr. Amy Shah
Show Notes:
How stress impacts your health

How Amy's car accident ultimately inspired her wellness journey

The benefits of audiobooks and podcasts, and how you can use these as a tool to create lifestyle changes

Understanding circadian rhythms and why they have such an impact on our happiness and wellbeing

What is Intermittent fasting and circadian fasting

How you can integrate fasting, exercise and diet into your daily routine 

The importance of asking for help

How to incorporate Ayurveda into your daily life
"When I examined my life, I realized there were a lot of things wrong with this life. I was not the person that I wanted to be. I wasn't living the way I wanted to live." — Dr. Amy Shah
Links Mentioned:
Get your copy of:
Listen to:
Connect with Dr. Amy Shah:
Twitter | Facebook | Instagram | Amy MD Wellness | Mind Body Green