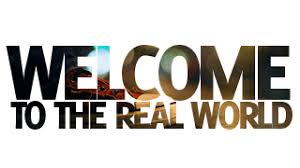 The "real" world.
What's real in the world?
Is it what I see, hear, smell, touch, taste?
Does that make it real?
A fact?
Or is that just my brain's interpretation?
One brain out of 7.5 billion brains.
What my iPhone screen shows certainly isn't real.
Seems airbrushed to "poifection."
I don't know.
Does it really matter?
What's real is real.
What's real in my world to me is what's real.
Because it is what it is.
Because I hold it as fact.
I grasp onto it and never wanna let go.
The Russian writer, physician and playwright Mikhail Bulgakov said that "fact is the most stubborn thing in the world."
I cry, "It can't be."
I try, "This isn't it."
I deny, "Nooooooo."
Nothing changes.
What happened is what has happened.
What about what I wanted to happen?
That book deal?
Poof.
That awesome three-minute stand-up set?
Gone.
All I can do is my absolute best today.
That's real.
Really showing up.
Tomorrow everything can change.
Unreal.
This world.
"Real" success to me is fully showing up for those staring at me.
Those real people right there.
And giving them everything I've got.
That's real.
Really.