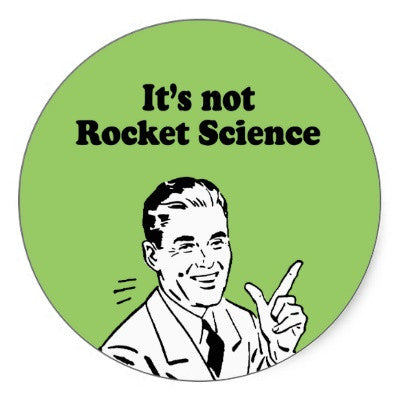 It's not rocket science.
What's not?
Healthier choices.
Lots of posts reference scientific studies about health.
We're going to jam with common sense.
Workout in the morning or check email for an hour — choose.
Blueberries and avocado for breakfast or Fruit Loops — choose.
I know, I know, where's the study?
Walk to work or check even more email in a Lyft — choose.
Get up and move every 15 minutes at work or sink further into glorious Herman Miller chair — choose.
All-American burger for lunch or All-Quinoan burger — choose.
Play with kids after work or check email another darn time — choose.
Mediterranean diet dinner or Royale with Cheese Mediterranean McDonald's dinner — choose.
Go to sleep when the 'sleep alarm' goes off or stay up checking even more useless email — choose.
Where's the study?
Study schmudy.
Choose.
Microstep: Today, you can google and read all the studies you'd like to. YOu know the ones — about getting healthier via doing this or eating that. Or, you could just go outside and do what you already know to do.