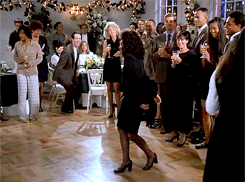 It's time to go beyond your comfort zone.
You're overdue.
I'm way overdue.
Our comfort zone is safety.
Safety Dance.
Barely clapping your hands.
Subtly clacking feet back and forth.
Life begins when you do the Elaine Benes dance.
Unbridled self-expression.
Every time you are kind to a stranger, you bust another move out of the comfortable dance.
Be uncomfortable.
Be the real sweaty you.
Dancing your heart out.
Microstep: Let out your inner Elaine Benes dance. Be you.  Who cares. Dance your loving little heart out.